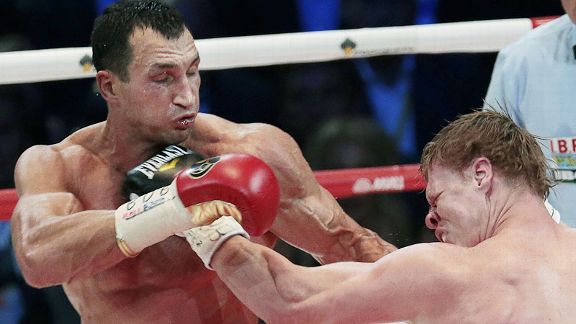 AP Photo/Ivan Sekretarev
Today, I had the absolute displeasure of watching, perhaps the worst, and certainly, at least in recent years, the most boring fight in the heavyweight division. I was kind of feeling lately that maybe I wasn't really giving Klitscho (either one, who cares) enough credit. Maybe I was looking through skewed eyes, after so many years of great American heavyweight champions. Maybe I was biased.I'm going to give this guy a chance.
Then the fight between Klitscho and Provetkin began and in no time at all, I thought to myself, "No, no, you were right". The brothers just happen to be fighting trough the luckiest period in heavyweight history. That is the long and short of it.
That they are the best of their era is not in dispute. That they are all time greats capable of beating any of the great heavyweights of boxing's past is. They are not even in the same league. They are the best in what has to be considered the weakest era in heavyweight history.
The fight today? Jab, hold, and throw Provetkin to the floor. Next round: Jab, hold and throw Provetkin, Next round:jab, hold and throw Provetkin to the Floor, and on and on it went. Yes, Klitscho won the fight, he won every round in fact. He pitched a shutout but I was really hoping in the final round that he was going to get disqualified. How great would that have been? What it comes down to is "Does anyone really care.
That was my unbiased view!